T
his website is designed for all residents of
Box Hill
 as a source of information about life in this area of outstanding natural beauty. It will also be useful to anyone who would like to visit this part of Surrey or is thinking of moving to the area.
Results of local elections
Conservatives - 531
Liberal democrats - 527
UKIP - 186x
Green Party - 48
Our new councillor will be Malcolm Laddell. We would like to congratulate and welcome him
May we take this opportunity to thank David Preedy for his efforts to support the village during the last 4 years
ROAD CLOSURE
Reigate Road (B2033) will be closed for up to 2 weeks from May 5th in order to provide a new power supply to Cherkley Court. 
UK Power Networks have confirmed the following:·    
The works will not requite closure of the A24 – meaning that the 516 bus service should not be affected.  Whilst they believe that the time allowed for the closure is generous, it will be a major task because:  Special care has to be taken given the proximity of the Heathrow-Gatwick oil pipelineo   UK Power Networks have to dig a trench for about 100 metres along the road
The County plans to use the period of
closure to work on relaying kerbs and cutting back overgrown hedges. A fairly lengthy diversion is planned, and we can expect additional traffic in  Headley and Box Hill
PUBLIC MEETING – CYCLING
A meeting took place on Monday 16th March in The Village Hall giving residents an opportunity to meet with Andrew Wright from the National Trust.  The event was well attended and everyone present was a resident of the village and nearly all were car drivers.  
The meeting was chaired by Martin Williams, BHNC Acting Chairman.  Martin introduced other members of the BHNC.  Also on the panel were Hazel Watson, our District Councillor and David Preedy, our local councillor.   
Hazel is campaigning for the route for Prudential Ride London to be varied and not include Box Hill every year.
David Preedy has been actively working with MVDC as they have their own Cycling Strategy.  More details are available at 

http://www.molevalley.gov.uk/index.cfm?Articleid=17061

 .  Changes have been made to the strategy to reflect the balance of needs of residents and cyclists.  David liaises with the cycling authorities, clubs and local police.  He approaches event organisers when issues have arisen and has campaigned for changes in national legislation.
Andrew Wright was invited to address the audience.  Since 2010 Andrew has been licensing sportives using the Zig Zag and charges are made to the event organisers.  He tries to ensure events do not clash.  He felt that charging to use the Zig Zag has decreased the number of events.  National Trust spent £250k resurfacing the road and they currently earn in the region of £20k from licenced events.  When authorising events he requests that riders should finish by mid-day with the exception of the Ball Busters and Ride London. In 2014 around 22 events were licensed.  This year the number is slightly less.  Andrew mentioned that the National Trust have resurfaced the footpath from Smith and Weston to the view point at a cost of £15k in response to villagers finding it difficult to walk along the path.
Comments were invited from the audience. 
Several people highlighted incidents of unsociable behaviour and intimidation from cyclists.  One resident had been involved in a near fatal accident at the Mickleham junction.  Nearly everyone present had witnessed or been involved in an incident with cyclists.
The sight line at the bottom of the Zig Zag was highlighted by several residents and requests were made to trim back the high hedge. The National Trust do not own that section of the road.  Their land starts at the first bend as you ascend the Zig Zag.  We will seek further clarification on this point.
It was commented that the National Trust actively encourage cycling on their Box Hill web site including a link to a web site to record times taken to make the ascent.  
Andrew was asked if he could limit the numbers of cyclists for events.  His response was that the maximum number allowed was 2,500.  It was also asked if signs could be erected to advise cyclists about safe cycling.  National Trust used to display Smart Cycling posters which were developed by Surrey County Council.  Apparently the funding for this initiative has come to an end.  
National Trust works with Surrey Police and they will be conducting a pop up centre to talk to cyclists.  
Several residents were concerned about the congestion of cyclists at the entrance to the shop and view point where bikes are left on the road and asked if National Trust could erect signs warning against this or marshal the areas.  Although they don't have the man power to marshal the area, Andrew is looking at a solution to improve the parking of bikes in the area by the shop.  
The point was raised that cyclists taking part in an event also cycle the route several times to practice therefore increasing the numbers.  
We were joined by Richard Hamlin, our local Police Inspector.  He is very aware of the problems and explained that cyclists are not governed by the same rules as a car.  However causing bodily harm by wanton or furious driving is a statutory offence and something they would enforce.  He has also contacted Cycling Weekly to raise his concerns.  We appreciate that the local police resources are limited but were encouraged to hear he was supportive of the problems we are experiencing in the village.
Richard was asked about night time cycling and the flashing strobe lights used by some cyclists which drivers find dazzling.  Richard is looking into the legislation concerning these type of lights.  
Several residents mentioned that cyclists often wear black outfits making it difficult to identify them.  
It was also mentioned that non-cycling visitors to Box Hill now find it difficult to stop at the shop and café due to the increased number of cyclists.  
David Preedy has requested MVDC to install a counting device on the Zig Zag so that actual numbers of cyclists can be tracked.  
We are very grateful to one resident who has put together a proposal to submit to the National Trust which the BHNC will be reviewing 
Keeping You Informed
Please
REGISTER
on this site to take advantage of all our system offers including free advertising, member discussion forums and latest news updates. All information is strictly confidential and will never be passed on to a third party. Please read our
privacy policy
.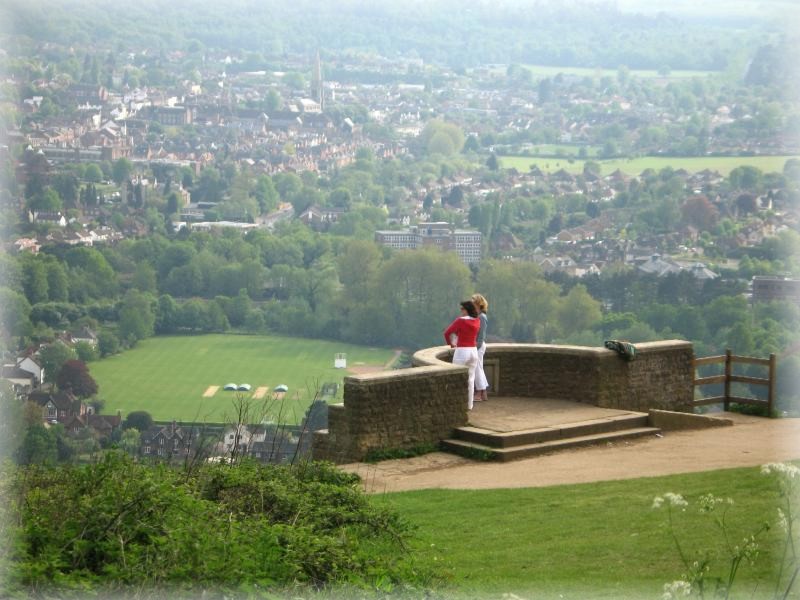 This area of

Surrey

has many things to offer apart from living near to nature. There is a strong sense of village community life which sadly these days is forgotten. At the same time it is a haven for those who wish to lead a peaceful life

.
Box Hill overlooks the Mole Gap where the River Mole breaks through the line of the North Downs, and gives its name to a scattered village high on the Downs. It is the scene of the famous picnic in Jane Austen's "Emma".
Box Hill has long been a popular picnic spot as one of the finest areas of woodland and chalk downland so close to London. The top is accessible by road, and has a National Trust car park, information centre and refreshment kiosk.

Walkers prefer to reach the summit under their own power, starting from Burford Bridge or Westhumble. There is a viewpoint at the top with excellent views towards the South Downs, and behind it an open area called Donkey Green that is popular with families.The hill has three major ridges running North-West with deep valleys between them: Juniper Top, Lodge Hill and The Whites. These all have fine views over the Mickleham Downs and Denbies Vineyard. Long and short walks are described in leaflets available from the NT shop, and are well waymarked, which is helpful as the many ways through the woods can be quite confusing without a map. Keen ramblers can take longer walks via the ridges to Mickleham or Headley, where there are pubs for lunch.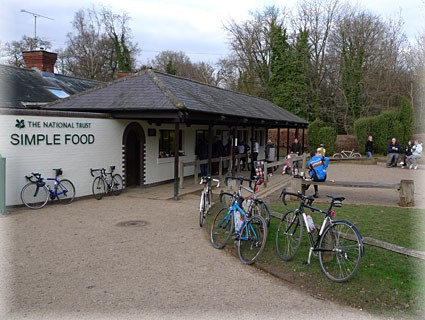 Box Hil

l is used by countless cyclists every weekend as a training ground and while there is nothing too taxing about a circuit, it's actually much harder to ride clockwise than in the anti-clockwise direction, it does provide for all the basic skills in using your gears, developing good bike control in a fast descent and learning to 'read the road' to prepare yourself for some of the sudden turns. As an added bonus, there's a superb National Trust tea shop at the top of the Zig Zag section!




There's plenty of parking at the top opposite the tea shop, £3 buys you a whole day, and once you've done the loop there's a whole world of climbing in the Surrey Hills right on your doorstep with White Down, Ranmoor and Leith Hill all within just a few minutes ride.
Box Hill is one of the safest places to live in Surrey. We hope you will find it useful, but we welcome your comments and suggestions on how we can improve the site. Just email us via the
Contact us
tab.

This website is designed and maintained entirely by volunteers for the benefit of the Box Hill Community.