T
his website is designed for all residents of
Box Hill
 as a source of information about life in this area of outstanding natural beauty. It will also be useful to anyone who would like to visit this part of Surrey or is thinking of moving to the area.
PROPOSAL FOR YELLOW LINES
Thank you to everyone who took the time to attend the public meeting on 12th January to which all residents were invited.
Around 90 people turned up and the Village Hall was buzzing.  The meeting was chaired by Martin Williams, Acting Chairman of the BHNC. Also present were all members of the BHNC apart from Daphne Ladell who unfortunately was unable to join us due to illness. 
A holding proposal to introduce yellow lines on Boxhill Road had been tabled with Surrey County Council by Hazel Watson, our District Councillor and David Preedy, our local councillor in response to complaints received by our residents.  They were also present at the meeting to hear as they were keen to hear the views of residents.  We were also joined by Ivor Williams from our local police force.
Martin welcomed everyone to the meeting and explained that the BHNC is a non-political group, who work on a voluntary basis for the benefit of the village. 
The main purpose of the meeting was to discuss the situation which has arisen due to the parking of commercial vehicles on Boxhill Road adjacent to the Roof of the World and Hillcrest as their present licences do not allow them to park on the site. BHNC and the audience were very understanding of their situation and recognise they need their vehicles to be able to work.  Likewise the Van Drivers would be happy and prefer to park on site if they were not prevented from doing so by the Site owner.
Martin Williams advised the meeting that he had reviewed the current Site Licences issued by MVDC to Roof of the World/Hillcrest in conjunction with the legislation and contrary to what had previously been stated, he believed it was possible for MVDC to challenge the current Site Rules restricting parking of commercial vehicles and if necessary vary the Licence.
Questions and comments were invited from attendees:
Could parking be made available to the vehicles elsewhere on the hill such as Chestnut Farm. It was felt this was not a solution.

Could the grass verge area in front of Roof of the World be paved to allow parking.  It would need to be ascertain as to ownership of this land but generally it was agreed it was not a solution.

It is very difficult for house owners opposite to ROW and Hillcrest to exit their drives safely.

Yellow lines would turn the road into a velodrome for the cyclists.

Introduction of yellow lines might mean that vans would park in Headley Heath Approach and Ashurst Drive. Both roads are bridleways and therefore parked vehicles cannot be fined.

There is no requirement for street lights with yellow lines.

As far as the audience was aware no major accidents have occurred as a result of the vans parking on Box Hill Road. (It is understood however that there have historically been 2 incidents; both at night one associated with speeding).

Could vehicles be persuaded to park on north side of Box Hill instead of kerb side.  Subsequent to the meeting BHNC has agreed this is not a suitable option.

Could a mirror be erected opposite the entrance to Headley Heath Approach.  Hazel reported that Surrey Highways do not agree with mirrors, however they can be erected on private land.  There is one opposite the entrance to Upper Farm. Comments from Ivor Williams
Enforcement of parking is not the responsibility of the police unless it is classified as dangerous, otherwise falls to MVDC to enforce where there are Yellow lines. We would like to record that we appreciate all the support we receive from our local police. Parking is classed as dangerous if less than 30 feet from a road.Everyone was invited to vote on the following proposals:
Voting against Yellow lines in any guise or form 49 persons (54%)

Procurement of a proper legal opinion and action against the site owner as a first option.  This was unanimously agreed.

Voting for wholesale yellow lines along the road in line with the "proposal" 1 person (1%)

Voting for strategic Yellow lines at the end of Headley Heath Approach and Ashurst Drive 34 persons (37%)
Due to the time constraints of the present proposal with SCC it was unanimously agreed to postponing the decision on yellow lines till next year to allow all legal avenues against the site owner to be investigated and exhausted first. Those voting for postponement included those who would otherwise look for yellow lines at the end of Headley Heath Approach and Ashurst Drive.
Subsequent to the meeting, Hazel Watson has written to County Highways requesting them to withdraw the plans for yellow lines on Boxhill Road.  A meeting has taken place between Martin Williams and David Preedy and they will shortly be meeting with the MVDC licencing department, to discuss what action can be taken by MVDC.  In this regard it is understood MVDC has now acknowledged its ability to vary a site licence contrary to previous advices. Separately and given it is anticipated that the local authority process might be slow, BHNC is communicating direct with the Site Owner with a view to inviting him to agree a community resolution.  At the same time with the assistance of David Preedy, we will press MVDC to take action under the Site Licence.  Should it become necessary, as approved by the meeting, BHNC will seek further independent legal advice on behalf of the Village with regard to the Site Owner and MVDC's obligations.
Further updates will be issued when available. 
Please note that a separate meeting with Andrew Wright from the National Trust will be organised todiscuss cycling on Box Hill.  We hope to arrange this shortly.
Keeping You Informed
Please
REGISTER
on this site to take advantage of all our system offers including free advertising, member discussion forums and latest news updates. All information is strictly confidential and will never be passed on to a third party. Please read our
privacy policy
.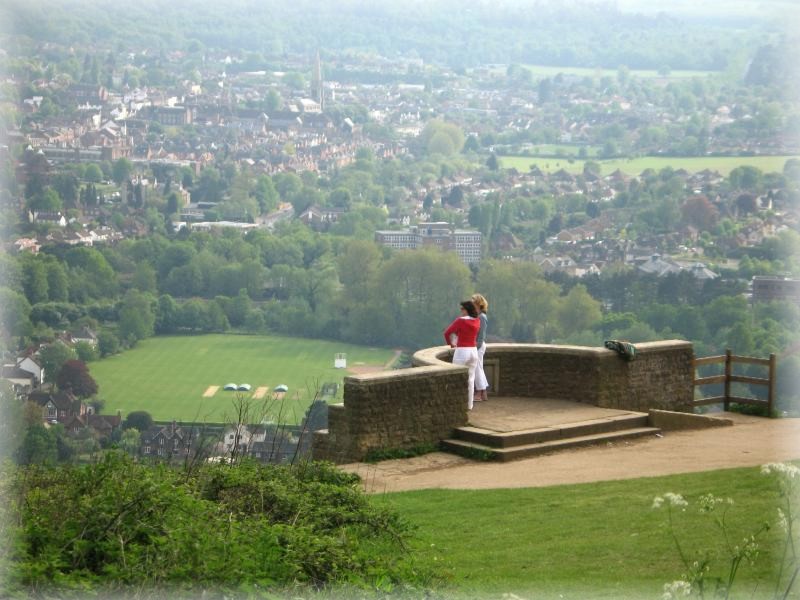 This area of

Surrey

has many things to offer apart from living near to nature. There is a strong sense of village community life which sadly these days is forgotten. At the same time it is a haven for those who wish to lead a peaceful life

.
Box Hill overlooks the Mole Gap where the River Mole breaks through the line of the North Downs, and gives its name to a scattered village high on the Downs. It is the scene of the famous picnic in Jane Austen's "Emma".
Box Hill has long been a popular picnic spot as one of the finest areas of woodland and chalk downland so close to London. The top is accessible by road, and has a National Trust car park, information centre and refreshment kiosk.

Walkers prefer to reach the summit under their own power, starting from Burford Bridge or Westhumble. There is a viewpoint at the top with excellent views towards the South Downs, and behind it an open area called Donkey Green that is popular with families.The hill has three major ridges running North-West with deep valleys between them: Juniper Top, Lodge Hill and The Whites. These all have fine views over the Mickleham Downs and Denbies Vineyard. Long and short walks are described in leaflets available from the NT shop, and are well waymarked, which is helpful as the many ways through the woods can be quite confusing without a map. Keen ramblers can take longer walks via the ridges to Mickleham or Headley, where there are pubs for lunch.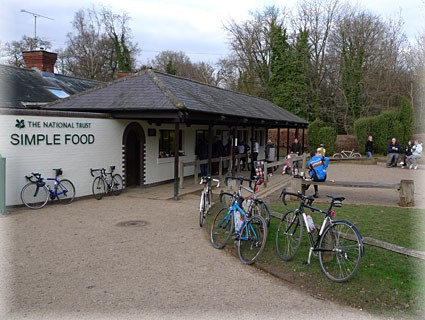 Box Hil

l is used by countless cyclists every weekend as a training ground and while there is nothing too taxing about a circuit, it's actually much harder to ride clockwise than in the anti-clockwise direction, it does provide for all the basic skills in using your gears, developing good bike control in a fast descent and learning to 'read the road' to prepare yourself for some of the sudden turns. As an added bonus, there's a superb National Trust tea shop at the top of the Zig Zag section!




There's plenty of parking at the top opposite the tea shop, £3 buys you a whole day, and once you've done the loop there's a whole world of climbing in the Surrey Hills right on your doorstep with White Down, Ranmoor and Leith Hill all within just a few minutes ride.
Box Hill is one of the safest places to live in Surrey. We hope you will find it useful, but we welcome your comments and suggestions on how we can improve the site. Just email us via the
Contact us
tab.

This website is designed and maintained entirely by volunteers for the benefit of the Box Hill Community.